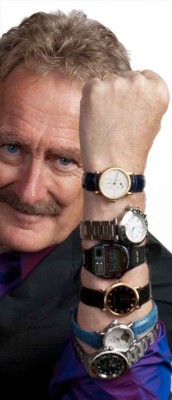 Email:
• for Agents
• for Media
• for Fans
• for Video Licensing
Request Bob Arno through About Entertainment, or your speaker bureau or entertainment agency.
Time magazine called Bob Arno "the world's foremost expert on the techniques of first-rank 'wires,'" the slang term for pickpockets. Years of research and first-hand observation of real street crime have made him an authority frequently consulted by police, security experts, and television producers.
"I create an energy in attendees which stimulates social contact and openness among them. The room buzzes after my show, and everyone is talking." —Bob Arno

Bob Arno is a speaker, entertainer, author, and special lecturer to law enforcement agencies. He has been profiled or quoted on NPR, CNN, MSNBC, ABC's 20/20, The Travel Channel, The Learning Channel, Discovery, Court TV, in The New York Times, USA Today, Fortune, Kiplinger's, National Geographic Traveler, Law and Order, and others. He has lectured for the Police Departments of Chicago, San Diego, Houston, Las Vegas, Detroit, Honolulu, Anaheim, and many abroad; for Tourism Safety & Security Conferences around the country, and many others; for Kroll & Associates, RSA Security Conference and Expo, and more. He taught an accredited course at the Connecticut Police Academy. With his wife, Bambi Vincent, he is co-author of the book Travel Advisory: How to Avoid Thefts, Cons, and Street Scams.
National Geographic's documentary about Bob Arno, "Pickpocket King," premiered in thirty countries in 2012.